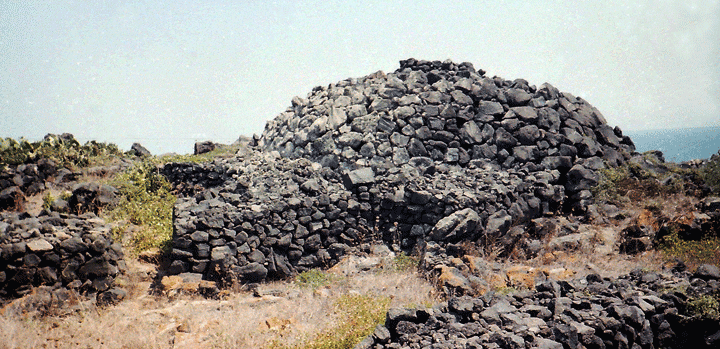 Sesi   Funeral  Site  3,000 BC    Island of Pantelleria   Italy
This house follows the full and lengthy renovation of a timeless, abandoned stone ruin located
on the island of Pantelleria in the heart of the Mediterranean sea about 85 Km. from the southern
coast of Sicily.
The island , born from a volcano 500,000 years ago has become inhabitable through the centuries
because of all eruptions that made its grounds extremely fertile while providing a large amount of
stone construction materials. The morphological volcanic structure of the island has been hostile to
its inhabitants from the very beginning , forcing them to fight nature.
Hard human labor has produced , a man made, ancient agricultural landscape of vast proportions
with the use of local stones , consisting of terraced retaining low walls , Arabic gardens,
funerary tombs, shelters for animals and architectures for the living called 'dammusi'.
The house from its original prototype of one space with two alcoves under a vaulted roof is to day
a multi levels compound of spaces , indoor , outdoor cooking facilities , guest rooms ,outdoor terraces
and gardens with local plants and vegetation.
A great summer house and an experiment in architectural restoration.
The enlargement to the house has been possible by the application of the same stone construction
techniques and local craftsmanship similar to that one used by the local population 5,000 years
before. The resulting expression is an architecture that speaks of continuity and not of innovation.
All stones have been manually handled, cut or shaped recording the time and effort it takes for them
to be prepared prior their final installation . A timeless process of construction previously applied
in all the traditional architectures of the island. The domed roofs are made of compressed layer of
pumice also a volcanic natural material.
The house before being a dwelling is a site , a direct expression of the land and its localized
configuration.
In fact all the stones used for the restoration and extension to the house come from the same ground
the house sits on.
What was then in ancient times , a common practice is today a local code requirement .For
construction you need to use only stones found on your property . In today's culture such a
requirement appears to be radical if not impossible to be fulfilled. The ground through the
invention of the architecture of the house dialogues with the sky , a silent ancient ritual of
emotional density.
An architecture of natural materials , water, light , land and sky exposed to all natural elements for all
seasons to come.