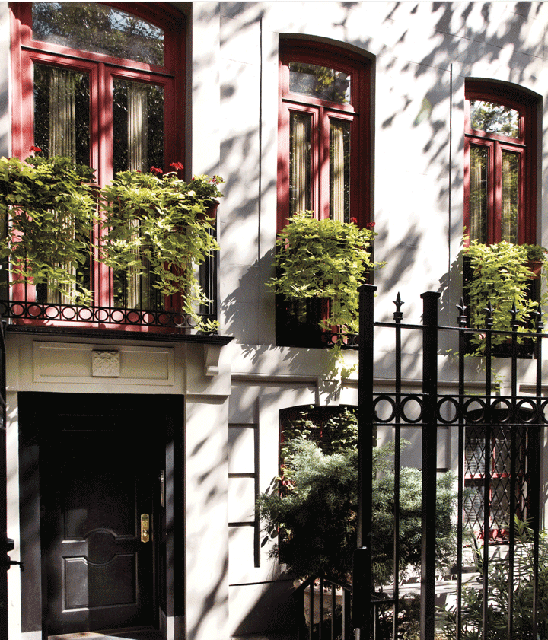 Marzovilla Residence Townhouse
Townhouse  Facade    Marzovilla  Residence    NYC    1998
Nestled between Gramercy Park and Midtown ,Murray Hill is included in the State and national
Registry of Historic Sites. The neighborhood is home to many fine hotels , consulates and
embassies and some of the city's most magnificent townhouses.
"The finest talents in architecture, design , and craftsmanship have joined together to redefine
the traditional townhouse lifestyle for meeting the demands of the 21st-Century living.
Sensible, seamless and stylized , this 20 foot-wide residence in Historic Murray Hill has been
stripped down to its original joists and rebuilt by the current owners who spared nothing
in their quest for perfection.
The results are simply amazing.
The owner's residence. The main parlor level offers a large open floor plan that maximizes
the width of the house.
A series of three French doors overlooks the beautiful three lined street. In addition to the
12-foot ceiling ,Brazilian cherry wood floor , and exceptional moldings and detail, amenities
include a wood-and gas -burning fireplace, an open staircase ,a powder room, a pantry and an
enormous country -style dining area and kitchen.
The next level is a floor-through suite featuring the master bedroom that has a wood and gas
burning fireplace as well as an enclosed terrace beyond the bedroom currently used as a personal
gym and office.
The master bathroom has a separate claw-foot tub, standing shower, double sink and vanity, and
bidet.
A second bedroom was converted in a superbly finished walk-in closet-dressing room at one
end of the house. The third floor contains three bedrooms and two bathrooms. A private terrace
off one of the bedrooms affords lovely garden views.
The top level is set up as a large great room with wonderfully abundant storage ,another bedroom
and bath and a laundry. The stair-case leads to the roof , which is unfinished.
the entire house is fitted with the highest -quality systems and amenities, including an elevator
servicing all the six floors."
House Beautiful 2003New York NY
Location
Murray Hill New York USA
Competition
1998
Scope of Services
Chief Designer
Construction Cost
$ 1.500.000
Gross Floor Area
5,500 SF