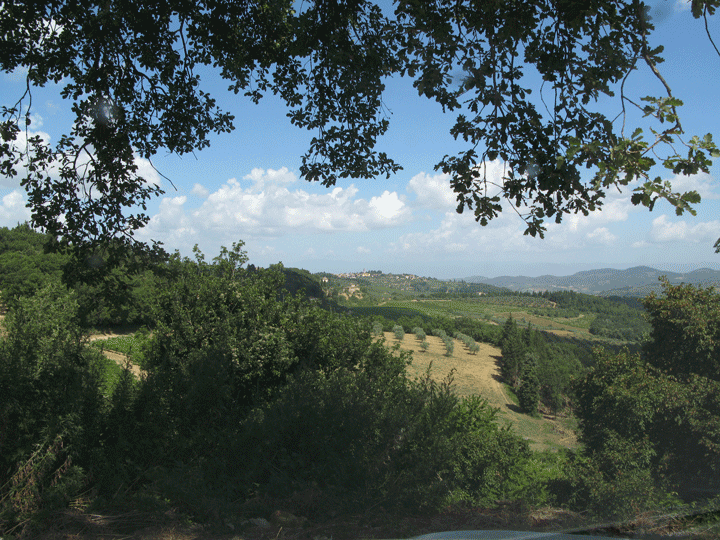 Fiorenzoli House
View  over Tuscan  landscape    Fiorenzoli  House  Montespertoli    Italy   1981-2000
The house is located on a hill top in the historical landscape of Tuscany 26 km. from Florence
in the direction of Siena Chianti region.
The architecture of the house , its low profile volumes have been conceived as if they were an
integral part of the surrounding morphology of the land .
No working drawings were prepared. Few original conceptual drawings.
The house has been built , with some modifications from the original concept , from a series
of sketches and mass models . In that respect the built house has the appearance of a large scale
built model. Physically it marks an ideal direction in the landscape and orients itself to the sun
and the not very far away city of Florence.
Both the models and all hand drawings show the clear intent to transform the existing site
in order to become an integral part of the architecture of the house and vice versa.
The house points in the direction of an open surrounding valley, vast and mysterious in its
tranquility .
Such a forced directionality is significant . It is used to organize all aspects of the surrounding
landscape in relation the house internal spaces. In the final version, many outdoor spaces
became interiors and the costly original earth works were suspended.
The plan of the house is also perpendicular to the existing counter lines of the hill .
As a tridimensional instrument the house positions itself in the delicate envelope where in
Tuscany very well attended vineyards meet scattered intensely green natural woods.
Being inside of the house , moving through each room from the back to the front one
experiences such a transitional landscape culminating at one end with the full the view of
distant sunsets and historical villages.
One can walk at the level of the upper vineyard and walking over the roof terrace is able to
enter directly into the second floor bedroom.. A medieval reference to country living and
comfort.
There are three figurative components to the house:
a The Head Living room , fireplace and bedrooms on two levels.
b The Body The large studio .
c The Tail
The guest section of the house.
Location
Montespertoli   Tuscany  Italy
Research Proposal
1981-1990
Scope of Services
Chief Designer
Construction Cost
N/A
Gross Floor Area
4,000 SF